I am so frustrated about my hair right now... I half-way want to throw a relaxer in it STAT!
Last night, I baggied my hair overnight with a mix of water, glycerin, Suave Humectant, and VO5 Moisture Milks Passion Fruit Smoothie.
**Now, I don't know the exclusive "rules" of baggying... I just know that doing it with a mixture like this works well for me... but I don't put any oils in the mix because last time I did that, I ended up with a dandruff-y, fungus-y patch on the back of my head that took about a week to go away... (gross, I know... but lesson learned)
So anyway, I co-washed my hair this morning with the VO5 Passion Fruit Smoothie and it was LOVELY... it was so soft, detangled SO well, and I lost minimal hair (compared to the amount that usually ends up on the shower floor after a wash/detangle session).
After washing, I sprayed the 6 months (officially as of 01/02/10) worth of NG with my glycerin mix (the same one used the night before just with more water added so my hair wouldn't be crunchy) and then I did my leave-in/sealing reggie and put my hair in four braids to air-dry.... after a while, I got impatient and un-braided them about 2 hours later, they were about halfway dry. I dried the four sections on cool until they were about 85% dry with my blow-dryer because I wanted to do a dry twist-out.
So once it was dry, I twisted my hair in some pretty large twists... I did about 16 twists (but my hair is not that long... I usually do about 20-25 twists for my twist-outs. I rolled the ends only (I usually roll the entire twist up) with my tiny blue perm rods and sat under the dryer on low for about an hour. Now while they were twisted, I was super excited because they looked nice and shiny. But when I took them out, they were so un-defined and they just looked a mess! Maybe I should have left the rods in over night but I just did not want to have to sleep on them... also, the ends looked rough because I twisted the twists all the way to the bottoms (I usually don't) so some of them got knotted up at the ends... so I'll probably have a sh!tload of single strand knots on my next wash day...
Currently, I have a few portions of my hair rolled up in the perm rods (the worst of the worst sections that had no curl definition) but (maybe)
I'll post pictures of the final product tomorrow
. Here's the picture: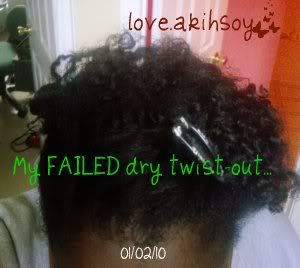 No more twisting to the ends; no more rolling just the ends; no more being impatient (leave the damn rollers in overnight!).
Lessons learned. ='(