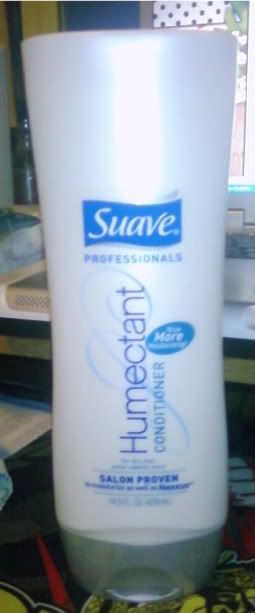 What is it?
"A salon quality... conditioner... that is proven to restore moisture to dry hair as well as Nexxus Therappe... conditioner."
Ingredients:
Water (aqua), Cetyl Alchohol, Stearamidopropyl Dimetylamine, Dimethiconol, Fragrance, Lactic Acid, Potassium Chloride, Disodium EDTA. DMDM Hydantoin, Glycerin, TEA-Dodecylbenzenesulfate, PEG-150 Distearate, Propylene Glycol, Tocopheryl Acetate [Vitamin E Acetate], Argenine HCI, Lysine HCI, Panthenol, Panthenyl Ethyl Ether, Hair Keratin Amino Acids, Methylchloroisothiazolinone, Anthemis Nobilis Flower Extract, Qillaja Saponaria Bark Extract, Silk Amino Acids, Methylisothiazolinone, Honey, Urtica Dioica (Nettle) Extract, Rosmarinus Officinalis (Rosemary) Leaf Extract
Application:
I use this as a base for DCs, leave-ins, and for co-washes. Self explanatory...
Thoughts/Outcome:
This product is honestly one of my very first staples! I LOVE LOVE LOVE LOVE LOVE what it does to my hair. My hair ALWAYS feels nice and soft after using it. And this stuff plus honey???? Shine for
days
ya'll! As a co-wash, it never disappoints. I've even diluted it and used it as a leave-in. Awesome in every single function. It smells kind of coconut-y (which I like, it's a nice smell that doesn't linger). The consistency is pretty thick, it usually keeps it's shape coming out of the bottle. I've never used the Nexxus stuff to compare it but... I don't think I NEED to try the Nexxus, because this stuff rocks and it's a fraction of the price.... $1.99 for 14.5 oz at Kroger's. Now, I've heard that there's been a change in the formula and I think the one I've been using is the NEW formula because I couldn't find an accurate ingredient list online to save my life... I had to type it out myself! Correct me if I'm wrong if any of you know. But weather it's the new formula or the old one it's fricken AWESOME! Everybody needs some Suave Humectant Conditioner in their life... WORD! =)