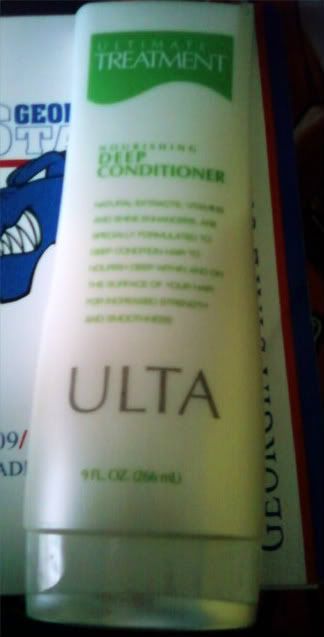 What is it?
[It] provides hydration and nourishment deep within and on the surface of your hair. Cumulative results will smooth hair and can increase strength with repeated use.
Ingredients:
Water(Aqua), Cetearyl Alcohol, Dicetyldimonium Chloride, Amodimethicone,
Hydrolyzed Soy Protein,
Butylene Glycol, Camellia Sinensis Leaf Extract, Cetrimonium Chloride, Equisetum Hiemale Extract, Guar Hydroxypropyltrimonium Chloride, Hydroxyethylcellulose,
Hydrolyzed Wheat Protein,
Lactamide Mea, Panthenol, Propylene Glycol, Steapyrium Chloride, Steareth-21, Stearalkonium Chloride, Trideceth-12, Methylparabed, Methylchloroisothiazolinone, Methylisothiazolinone, Phenoxyethanol, Fragrance.
Application:
I applied this conditioner to dry hair and sat under my hooded dryer for 15 minutes.
Thoughts/Outcome:
Yeah, I
probably
won't be buying this again. After I came out from under the dryer, my hair was literally hard! I'm attributing that to the fact that A.) I put it on completely dry hair and B.) I used this product the day after I did my
rod set using eco-styler gel
as my setting agent. When I rinsed it out, it was fine... but still unimpressive. It contains protein and I've learned that my hair is actually not protein sensitive (lest I speak too soon lol) but I just wanted to put that note in here just in case anyone who
IS
protein sensitive wants to try this product. I'll admit that I have yet to try it again on its own however if I do try it alone again (I'll use it on damp hair) then I'll update this post. To use it up tho, I'll just be mixing it with other DCs.