Yep! I'm talking about those pesky little promises that we make to ourselves at the start of the new year! Since it's almost the end of February (and1/6th of the way through the year...) it's time to get ourselves in check and make sure that we're sticking to those
promises/resolutions
(click the link to check out mine)!
I'll go first! =)
1.) Letting go of "that person" has been a process but I'm getting closer to being "healed" (kind of dramatic but it's kinda true!) from that situation. Doing a lot better than in late-2009, that's for sure!!
2.) Again, a work in progress, but I'm doing sooo much better about viewing the positive and keeping negativity at bay!
And on my "personal challenges":
1.) I'm working hard on that 4.0 ya'll.... I actually had two exams today that didn't go as well as I wanted... but I'm not giving up on my goal!! (see my inspirational
QOTD
!) We'll see in May how it turns out for me....
2.) Ha. Yeah, I totally fell off the "healthy lifestyle" bandwagon ::guiltily eyeing the huge bag of M&M's sitting on my desk::
I gotta do better on that one...
summer's coming up!!
3.) Coming along.... I don't see any reason why I won't make it as I've already relaxed once... next relaxer not due until June!
4.) Newest length progress pics (taken for my new challenge... post coming soon lol)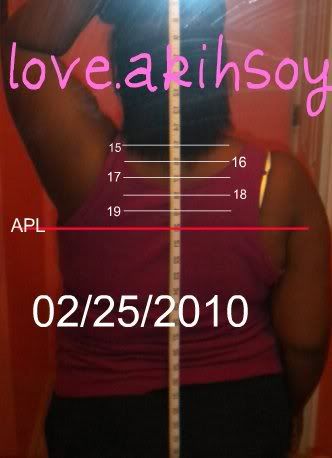 I'm a good 3-4 inches away still... I'll just say 4 to be safe... I'm still quite optimistic that I'll make my goal and keeping my fingers crossed that no set-backs arise....
So that's it for me!
I hope you guys have been better at keeping all of your resolutions/goals than I have. Feel free to let me know if you have... maybe it will be some sort of motivation for me to do better!!