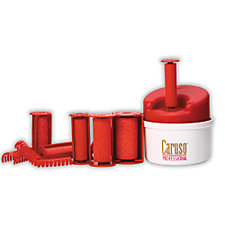 $39.99 from Sally's
(image source)
According to them...
The Caruso SalonPro 30 Molecular Steam Hairsetter uses a revolutionary steam process to deliver long lasting voluminous curls while keeping hair shiny and static-free. The SalonPro features 30 rollers in 5 assorted sizes provide complete styling versatility for creating any of today's hair styles, and non-damaging steam conditions the hair as it locks in curls. Caruso SalonPro 30 Molecular Steam Hairsetter is great for all hair types, and will help you create healthy, strong, beautiful curls with added body and shine.... Curls last for days and is great for all types of hair!
Directions for use...
Fill steaming system with room-temperature water and then plug in. Wait about 30 seconds for it to begin steaming. Once it's steaming, it's ready to use. Place desired roller on steamer for about 10 seconds and then roll your dry hair onto roller in desired direction. Once you have rolled your entire head, let curls set for 10-15 minutes and then remove rollers. Voila!
According to
me...
This Caruso system was probably one of the best investments of my life!
I can always count on a great hair-day when I'm using this system. The large rollers can be used to just create body while the smaller rollers create the cutest curls. Also, the little book that comes with the system gives you ideas on how to create different styles for different lengths of hair, making this system perfect for anyone. Also, because the rollers are heated by steam, you get these awesome curls without the damage of a curling iron!
I can't speak highly enough of my Caruso's and I would buy them again and again and again!!!