Last December, I set out a road plan that was supposed to get me to my two goals for this year: reaching Bra Strap Length and having to trim my hair only once or twice. (If you need a refresher, check out
this
post!)
Just as a refresher, this is where my hair was at the end of 2010: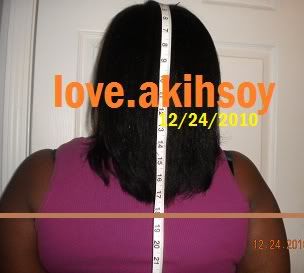 In 2011 I...
Got my hair in another sew-in and kept it in for about 4-5 weeks
A few weeks after I took out the sew-in, I got box braids and kept them in until the end of March.
In April, I had my first relaxer of 2011 and my first trim of the year as well. The trim put my length at "grazing" APL... I as a bit disappointed as I felt the stylist took off too much hair but got over it when I saw how healthy my hair looked and felt.
In May, I started realizing that that hair was getting "long"! #excited!
For the summer, I was bunning a lot but started having issues keeping up with my regimen... I was very cruel to my hair, washing it every two weeks (but sometimes once a month!) and started having scalp issues.
In the fall, however, once the weather changed, I started following my regimen more closely. But I started an addictive relationship with heat, flat ironing my hair three times from the middle of October to the end of November!
The day before Thanksgiving I got another trim of about 1-2". I also trimmed about 3" off my bangs myself (into layers, and I LOVE them!)
For the month of December I have been direct-heat free, experimenting with different no-heat styles in preparation for the Rollersetting Challenge hosted by Ebony C. Princess!
LET ME EXPLAIN! (LOL), my hair looks HORRIBLE in my "year end picture" because A. I am 10 weeks post relaxer and B. I straightened my hair at 2AM! I did a horrible job, my ends were flipped up in some places leaving the ending picture lacking. =/
Now, due to trimming and the fact that I did not really take vitamins and/or use GAs this year, my retention ended up at a whopping 2"! Sigh... must re-evaluate my addiction to the scissors for 2012 (more to come on those 2012 goals in a later post!). However, the health of my hair has progressed in leaps and bounds since the start of my HHJ in 2009! (Check out my
HairStory
to see where I started!)
I hope that 2011 gave you guys better growth results than it gave me!
♥,
Questions? Additional comments? Email me at HairIAmWORLD@gmail.com