Retails for $114.95 + S&H at
BeHuetiful.com
According to them:
"Huetiful Hair Steamers are designed specifically to resolve the most challenging hair frustrations – dry hair, breakage, split ends, and scalp itch/discomfort. A Huetiful brand hair steamer can resolve all of these frustrations and allow you to stop buying multiple deep conditioners and hair treatments that never seem to completely restore enough moisture back to your dry hair.
It (1) Restores moisture to your dry hair 5x better than deep conditioners or hair treatments alone (2) Replenishes moisture lost from chemical or heat treatments, and (3) Reduces future breakage and split ends caused by dry hair."
According to me:
I bought my steamer in September of 2010 at the World Natural Hair Show in Atlanta, GA. It has taken me this long to review it because I wanted to be sure that I was reviewing it after more than just a few uses.
Positives
Softness, softness, softness! My hair got as soft in 20 minutes as it would in twice as long under my hair dryer! And the softness lasted for DAYS!
Moisture retention: My hair felt very moisturized for almost a week after with very light moisturizing and sealing. While my hair tends to retain moisture well when I am keeping up with my regimen, it has never retained it as well as since I started steaming regularly!
This thing is so quiet compared to my hooded dryer! When under the dryer, I can't even think about watching TV! I have to have headphones in to hear and even with the headphones I can still hear the super loud dryer. The steamer is almost as quiet as a mouse so I can watch TV (or hear if someone is talking to me!) which I love.
Negatives
The biggest con for this Huetiful steamer, in my opinion, is the fact that the steam does not seem to hit my nape very well at all. The middle and top of my head reap the most benefits from the steamer but usually my nape is cool and dry at the end of the steaming session.
The size of the unit is a big contributor to my first negative aspect of the dryer. My entire head cannot fit under the hood of the steamer... in addition, I have to strategically pin my hair in order for more strands to get some steam action
The fact that the Huetiful steamer is NOT a floor model is a MAAAJOR con for me. The lack of ability to easily adjust the height and angle makes it quite difficult to use and not worth the money.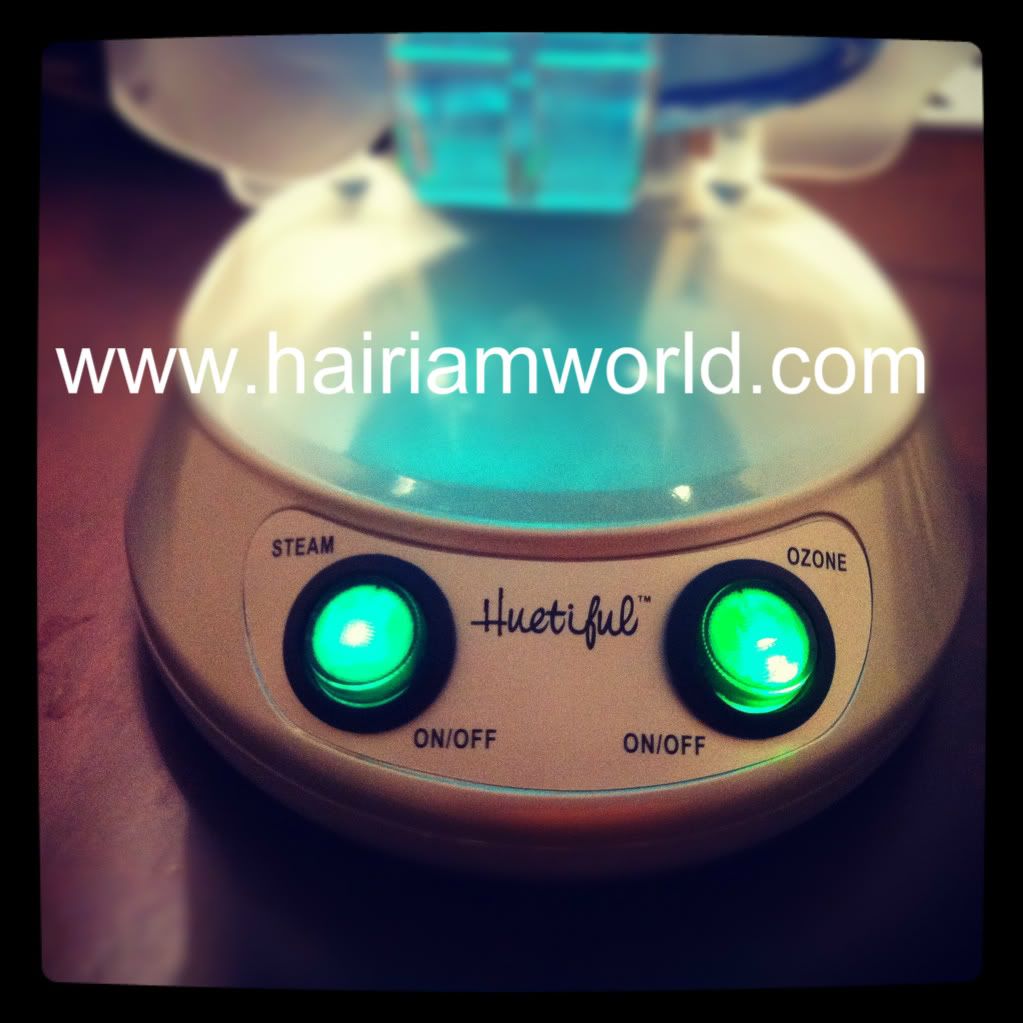 Overall, I would recommend getting
A
steamer, I'm just not sure I would recommend
this
Huetiful, tabletop model to everyone. The steamer itself does WONDERS on my hair, however, the specifications of Huetiful's model are something to think about. Personally, the steamer was a spur of the moment purchase for me (it was on sale for $99 at the hair show and the ladies and gentleman there did an AWESOME job selling it!). While some people may prefer the compactness of this model, had I had more time to consider I would have probably gotten a larger, rolling floor model but aside from that, the steamer definitely does what it is supposed to do very well! I give it 3/5 stars.
♥,
Questions? Additional comments? Email me at HairIAmWORLD@gmail.com